Flooring Contractors in Springfield, MO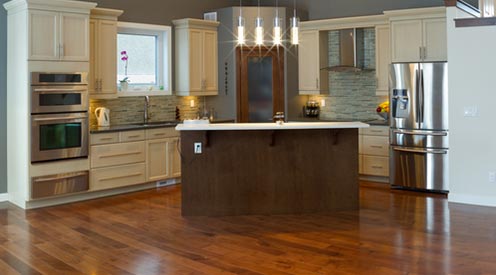 Family-Owned Hardwood Flooring Specialists
Family Hardwood Floors has been the premier hardwood flooring specialist in Springfield, Battlefield, Republic, and Nixa, MO for over 40 years. We deliver only the highest quality service, products and craftsmanship in every project. If you've been looking for beautiful hardwood flooring, you can count on our flooring services to meet your every need.
Your Hardwood Flooring Experts
Hardwood floors give a room a sense of stability and warmth. Ninety percent of realtors say that hardwood floors help increase the value of your home and help it sell more quickly. Even in a small home with minimal square footage, hardwood floors give a home a well-crafted, sophisticated appearance. Our hardwood floors in Springfield, MO come in a wide variety of different species and colors, making design possibilities endless! We are proud of the high quality of service, product and craftsmanship that we deliver in every hardwood flooring job in Springfield, MO.
Family Hardwood Floors is your team of local, family-owned hardwood flooring contractors with over 40 years of hardwood flooring experience! We specialize in the installation of residential and commercial finished hardwood flooring, and also provide sanding, refinishing and repairs, specialty designs, handcrafted transitions, custom hand distressed floors, insets and trim or borders. Our knowledgeable and professional staff are always excited to help you bring your vision to life. Customers choose to contact our flooring contractors for their hardwood floors in Springfield, MO because:
All of our services are offered conveniently on site.
We use only the highest quality products.
We provide both residential and commercial services.
We have a wide range of services that will meet all of your hardwood needs.
Estimates are always free!